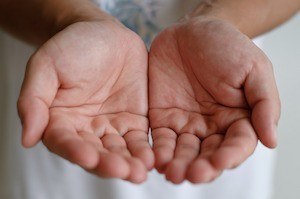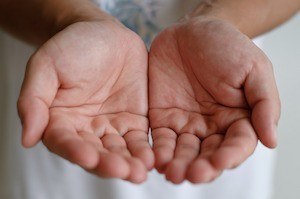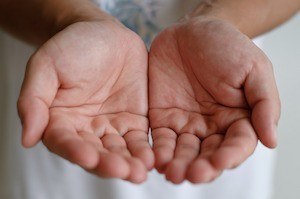 Left hand, let me introduce you to the right.
You have much in common!
Some of you will be aware of my recent physical trials and tribulations. It's not something I go on about a lot, so you may be hearing about this for the first time.
2 1/2 years ago I twisted my ankle playing tennis. Earlier this year, I sprained my right wrist, wrestling with a window in the wind. Storm Doris actually.
The window won!
First impressions
It was something of a comedy moment, when my new client, Yannick Le Touze (ever the gentleman) walking down the long garden path, witnessing the combat, and my hanging out of the house, called up to me, enquiring as to whether I might require some help!
Help? What makes you think I need help?  😃
So, anyway, that did for my right wrist. And then at the beginning of April this year, I developed a sudden case of De Quervain's Tenosynovitis in my left wrist.
Joy!
Actually, this thing in my left thumb and wrist has been quite debilitating and not a little annoying.
And I waited (along with everyone else) to see an NHS consultant and see what was to be done.
So I was back at the Royal Berks this week, for an MRI to follow up the various x-rays I've had.
X-rays apparently not shedding any light on what's going on, I understood the MRI might provide more diagnostic information. So off I went. Fixing my left wrist would mean I could go back to sculling again, if not tennis and ballet for the moment.
Imagine my surprise, when I was informed that it was my right wrist they were going to photograph, not my left.
Having, a year ago, been through the long process of getting my damaged ankle x-rayed, sitting in the waiting room with a woman who was here for a second time, having already been through the 2-hour cycle that morning, "Because they x-rayed the wrong foot!", it occurred to me to open my mouth and mention that I thought there had been a mistake! It was my left wrist, not my right, causing the most grief.
But no, they were having none of it!
"It says here…."
I told them I didn't think it was remotely logical and what were we going to gain from looking inside my better wrist? The answer came that I already had a diagnosis for my left, and perhaps the consultant wanted to know if I had De Quervain's in the right wrist as well.
But so what? There wasn't anything he could do for me anyway! So what difference does it make if I've got it in both wrists?
Now we were all confused!
Left hand? Right hand? They have a lot in common! Easy to get one confused with the other, it would seem!
But I went along with it. After all they're wearing white coats – they must know what they're doing! And maybe there was some logic to it that nobody had bothered to mention. Do you also sometimes feel like an uninformed piece of meat, going through some random processing that you don't understand? (It is possible of course that I'm mixing some metaphors there, but I bet you know what I mean!)
Left hand, right hand? Who knows which?
I mean… a little communication wouldn't go amiss, would it?
It did tickle me that the brand of MRI machine they were using was Phillips, and so the room was furnished with their beautiful "HUE" coloured lamps. All very ambient, it was!
Back to Doris
And what about the client who had to wait for me to finish my Flying Wallendas Act?
Well, despite Initial appearances my Genius Material programme was the perfect fit for his needs. And he was a perfect fit for my programme, as you will  hear in his words:
"I am willing to attain Level 6 financial qualification (Chartered financial planner) and I have been struggling passing exams. I am required to absorb a large amount of information, in a foreign language, and in a very limited amount of time. Lysette convinced me her program would make a difference. She initially asked me to do an online assessment to understand what type of learner I am and I subsequently had a couple of 1:1 sessions with her. I am now armed with a tailored learning method that allows me to learn with the confidence that I will retain information faster and for longer. The results speak for themselves, I passed my second Level exam a month after Lysette's coaching. I highly recommend her service."
For your left-hand, right-hand joined-up pass exams easily programme, contact me. Alternatively, watch my free webinar…